A History of the Arts in Devils Lake
Alma Mehus Studness one of many who have enhanced life in the Lake Region through the arts and Chautauqua.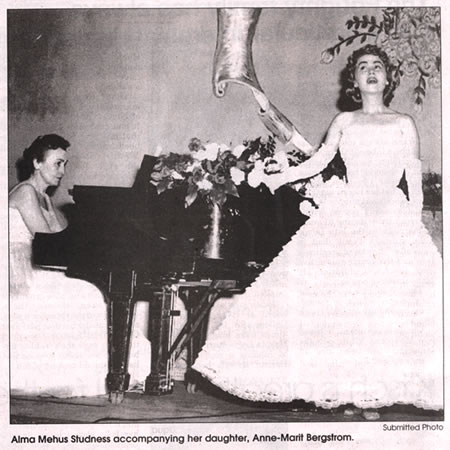 Alma Mehus Studness came to Devils Lake as a blushing bride in her mid twenties. The year was 1929. She had grown up in the Lake Region. She was returning home to her beloved childhood home.
The past several years, as a music student and then as a concert pianist, she had lived in a number of the cultural capitols of the world… Minneapolis, Chicago, Philadelphia, New York, Berlin. You could say she came home trailing clouds of glory. She was in love. And her husband loved her immeasurably. They were married at the home of friends in Stanford, Connecticut on January 23.
Though they were totally satisfied with each other's company. They wanted nothing more than to be together, Alma did do some concertizing after their marriage. She gave a New York recital. However travel was difficult in those days. There was very little air travel. Cars were less efficient and roads were often unpaved. Long distances by train were best traveled by train.
Not long after Alma married Leo, her Agent died in an air plane accident. She chose not to hire a new representative. She was happy to have a reason to stay home with Leo. For a wedding gift he had given her a seven foot Steinway piano. (She had her music. She had Leo. She had everything she wanted).
Alma's sister Belle, who had given up her own career to support Alma, had been deeply disappointed when Alma set aside her concert career to marry. However, not long after Alma's marriage Belle decided to return to North Dakota as well. Friends in Bismarck convinced Belle to come back to her home state to open a music conservatory.
Belle had been teaching in Minneapolis. She had established the Music Department at Augsburg College in Minneapolis. She was also teaching at MacPhail School of Music (also in Minneapolis). When she informed Mr. McPhail of her decision to return to North Dakota, he said, "You can make a big difference there." He recognized her pioneering spirit and realized he couldn't't dissuade her.
So, in 1929, two of the Mehus sisters returned to their beloved home state. The third sister, Hilda, was studying child psychology at Columbia University in New York City and would continue to pursue her career as a Child Psychologist.
When she returned to the Lake Region, Alma found that there were only two active musical organizations in Devils Lake: the Federated Music Club and the Devils Lake Boys Band, which was under the direction of Carl Weimer, a legendary musician. (Several of his former students became founding members of the Elks Band, so his influence is still felt in the community). Weimer was a former member of The United States Marine Band. He was a splendid musician as well as a phenomenal disciplinarian.
Mother was, of course, disappointed that North Dakota Chautauqua had ceased to be. In her youth it had been a flourishing organization that provided great inspiration for her. The Fort Totten Indian Band gave such lively musical entertainment and luminaries like Billie Sunday, William Jennings Bryan and Carry Nation had been standard fare.
Many thought that the economic downturn was the reason for the demise of Chautauqua. Belle, who established Mehus Conservatory in Bismarck during the Depression, did not agree. She believed that during hard times people need the enrichment of the arts more than ever. The success of the music conservatory she was establishing in Bismarck during the depression indicated that she has reason to feel that way.
Alma became determined that Devils Lake should have a concert series. The stumbling block was that the town did not have an auditorium with a grand piano. Her pioneering spirit kicked in.
She asked the Music Club and the Boys Band Auxiliary if they would sponsor her in a benefit concert with the proceeds going to purchase a record library for the High School. Both organizations enthusiastically endorsed the project.
But how could they have a benefit concert? The town did not have an auditorium with a concert grand! Alma decided to have her Steinway Grand piano transported to the school auditorium for the event.
On November 15th, 1946 Alma presented her concert to an enthusiastic crowd at Central High School Auditorium (now Central Middle School Gymnasium/Auditorium).
The headline of review in the Devils Lake Journal said, "Large Crowd Thrills to the Artistry of Alma Mehus". The review stated, "It was not an audience that had to be won for the performers' years of association in the area had long ago won the hearts of her listeners. It was an admiring audience which had come to share the achievements of a person who is working quietly but ardently for the cause of good music."
The review also said, "It was gratifying to see so many students in the audience, taking advantage of an opportunity to enrich their musical experience."
Years later my husband, Bill, reminisced about attending that concert with his parents. He said that when Mother began to play "The Blue Danube" his Father leaned over and whispered in his ear, "Now you listen closely to this piece. She is famous around the world for the way she plays it." (I can just hear Bill's Father saying that.)
At the time of the concert, I was in grade school. I remember the evening well… the music and the flowers. I remember seeing the ushers present Mother with seemingly endless bouquets or baskets of flowers. After the concert the flowers were in our living room where the piano once stood. The beauty of it all enthralled me. I saw my first orchid.
It is amusing to remember that a couple of days before the concert, Mother had said to Dad, "Maybe you should send me flowers Leo. It would be embarrassing if there were no flowers." He had already ordered flowers, and so had many other people.
So pleased was mother with the community response to her concert that she set about raising money to purchase a Steinway Grand for the High School. (This piano is still being used at the High School Commons).
Once the town had its concert Grand, Mother began organizing the Civic Music Association. They began presenting concerts within two years.
Mother worked with Civic Music Management in New York City. That is a story in itself. But she would tell you that the thrilling thing was the enthusiastic response of the community . She found no lack of volunteers to serve on the Board of Directors and work on the membership drive.
Some of the finest performers in the music world graced the stage of Central High Auditorium. How I loved those concerts as a child! The Minneapolis Symphony performed her twice under the direction of Antol Dorrati. Another favorite of mine was the Dance Satirist, Iva Kitchel. As years went by the concert association presented such great performers as Roberta Peters, Sherril Milnes, Jerome Hines, Virgil Fox, Peter Nero, William Warfield, Max Morath, Canadian Brass, the Norman Luboff singers, the Vienna Boy Choir…the list goes on and on.
Over a dozen communities in the region had healthy memberships in the concert association. Mother was proud that it was truly a regional organization.
Gen Rutten, who was Chair person for the regional membership drive for many years, loved to quote a column that appeared in the Grand Forks Herald written by Laurel Reuter. I have the article someplace but can't find it at the moment. Anyway Laurel stated that she wondered what it was that tat this town 90 miles down the road had that made it possible for them to present such a high quality concert series. Mother's response was, "We have a community of music lovers who appreciate quality". This organization, now known as the Lake Region Concert Association still thrives today.
Mother enjoyed sharing her love of music by giving piano lessons to gifted students. She did not charge for lessons. She said that her reward would be the accomplishments of her students.
Those she chose to teach worked diligently. Teachers had been generous with Alma when she was a student. She wanted to do the same. All of her students were on scholarship.
When people would comment to Alma about her generosity to young people, she would say, "They give me so much more than I could ever give them." She loved her associations with her students.
In the sixties, when I had begun teaching voice, Mother and I established the Lake Region Young People's Music Club (LRYPMC). This enabled our students to participate in the Federated Music Club Festival also gave a vehicle for our students to perform for one another.
In the late seventies, when Renard was Treasurer of LRYPMC, he suggested a trip to Minneapolis to hear the Metropolitan Opera perform at Northrup Auditorium at the University of Minnesota. So another tradition was born.
Club members continued to attend the opera in Minneapolis until the Met ceased their National Tours. The LRYPMC trips ceased as well, until 2000 when Verna Brown, who had been a LRYPMC member, revived the tradition. As a result, over 500 students have attended the opera in Minneapolis in the past eight years. They have also performed in Saint Croix Falls Wisconsin where they stay at Michael and Mira's Holiday Inn.
Many LRCPMC members have gone on to enjoy great success in the music world. Many excel in other fields as well. Mother said she felt confident that LRYPMC students would become successful, whatever their chosen field. She explained, "Through music study they learn the importance of creativity, discipline, and hard work. These are the keys to success in any field."
Though the list of students who have been involved in LRYPMC is too long and their accomplishments too many for us to list them all, I would be remiss if I did not mention two of her students who are being honored this month. One is Kip Cranna who is being honored in San Francisco for his years as an administrator with the San Francisco opera. The celebration is entitles, "Kip Kip Hurray!"
In Pittsburgh, Kathy Erlandson Soroka and her husband, John Soroka, are being honored at a concert of the Pittsburgh Symphony. John is retiring after thirty years playing Timpani with the Pittsburgh Symphony Orchestra. Kathy has been a frequent soloist.
Examples of successes can be cited from Coast to Coast and many places in between. The success Richard Lange is enjoying in the Twin Cities is one example. ( And we have the pleasure of hearing him perform for Chautauqua this summer).
Something else that happened in the sixties that was of great importance for the Lake Region was the building of the new campus for Lake Region State College (then Lake Region Junior College). The impact on the region was huge. Of particular importance to the art scene was the fact that the campus included an auditorium.
Bill served on the Board of Trustees at the time that the new campus was developed. He was active in the building project and enjoyed working with the forward thinking citizens who put their hearts and souls into that undertaking. Dad (Leo Studness), by the way, headed the necessary fund drive along with Tony Heroldson.
For Bill, the only unpleasant aspect in the endeavor was the battle that ensued over including an auditorium. Bill made some enemies on that one. One individual who opposed the auditorium did not ever speak to Bill again. That hurt. But the college had an auditorium. That mattered most.
Mother and I performed together at the dedication of the auditorium. A featured speaker was Fred Hovde, president of Purdue University, who grew up in Devils Lake. It was a grand occasion. BUT! The auditorium did not have a grand piano.
Mother's pioneering spirit could not rest. She and I gave a joint concert to establish a piano fund. Soon a seven foot Steinway graced the stage.
In the seventies Mother served on the North Dakota Council for the Arts. She came home from a state meetings with the idea that our community should have a local Art Council to co ordinate and enhance the activities of the existing art organizations.
The following organizations expressed desire to become involved in this umbrella organization: Art Association (that had been formed in 1957), the Little Theatre (established in 1961), and North Dakota Chautauqua (established in 1976 during the Nation's Bicentennial Celebration). Mother felt that unifying these organizations would have a strengthening effect for the arts in general.
The first official project of the Art Council was to bring the Apollo Strings here from Moorhead MN to perform in the Public Schools. They were quite a glamorous group and mother felt certain they would enthuse students about string music. The director, Vincent Pulicicio, played the Czardas at each school.
Before I tell more about the Art Council, I should mention that the reestablishment of the string program became somewhat of an obsession for Mother. Mother had been eager to reestablish the string program in the public schools. It had been absent from the curriculum for ten years.
She did some research and found out about a very talented violin student at Minot State College. His name was Richard Neukom. She contacted him and engaged him to come to Devils Lake each weekend to give violin lessons.
The violins that had been used during the previous string program were still at the school. Since the violins had not been used for ten years Mother brought them all to the house to take inventory and see what repairs were needed.
After she was satisfied that she had done sufficient preparation, she went to the School Board to ask them to reinstate the program. She was able to tell them that she had found a prospective teacher, that the school had instruments that could be used and that a number of local students were already studying violin. The response was a resounding yes.
Mother felt that to have a mature art scene, a community must have an orchestra. She believed that having a string program in the public schools was the first step toward that goal. Belle did something similar in Bismarck. She hired a violin teacher to teach violin in her Conservatory until there was a broad enough interest to develop a program in the public schools.
Now back to the Art Council. I enjoyed working with Mother on this project. I became Executive Secretary and then President. The organization at that time was patterned after the Lake Agassiz Council in Fargo which was a very successful organization.

The Agassiz Council had an innovative approach to board membership. They limited the membership to business people and administrators. They deemed this to be a way to expand leadership for the arts. (Since artists, and those employed in the arts, are already art supporters, this gave opportunity to reach beyond and gather others into the fold).
Also the Agassiz council believed that administrators would be more likely to promote the welfare of all disciplines (whereas an instructor might act from prejudice for his or her discipline). The State Art Council staff was impressed with the broad cross section of the community the council involved in the arts through board membership…people like Sister Mary Patrick, Dr. Merril Berg, Ruth Haugland, Tom Rutten, Dr. Richard Kunkel, Rick LaFleur and Jack Zaleski.
The Art Council spawned a number of new exposures for the community including: Cinema Series, a classic film series presented in the local movie theater (presented in conjunction with Arts Midwest before it became a stand alone project of the Art Council); Residencies in the schools; Art Workshops; Guthrie Theatre performances and workshops; and opera performances (Carmen, LaBoheme, Barber of Seville, Rigoletto to name a few) given by the Minnesota Opera Company.
Other projects too numerous to mention came into being because of this united effort. The Art Council continues today to have a positive impact on the community.
Beth Johnson, President of the Fort Totten Little Theatre Board, was one of the ardent workers for the Art Council. I was impressed by the tireless way she worked toward bringing new exposures to the community. An example would be the Missoula Children's Theatre). One day I asked her, "Why do you do it? Why do you work so hard to give new exposures to young people?"
She told me, "One day, while I was growing up, Gutzon Borglum came to our school to make a presentation. It changed my life." She became determined to do all she could to make such inspiration available to as many young people as possible. She and Mother had much in common. Mother admired her very much.
When my Father passed on in 1993, Mother wanted to do something meaningful to honor him. At the time the college was building a new library due to a generous gift from the Hoghaug family. Mother donated funds to the college to have the former library become a Gallery.
That same year (1993) marked the 100th anniversary of North Dakota Chautauqua. It had delighted Mom and Dad that just four years after statehood, pioneers established North Dakota Chautauqua on the shores of Devils Lake. What a tribute to their recognition for the need for cultural enrichment.
Candace and I created a series of paintings commemorating the Chautauqua Centennial. The series was published in a book entitled "Chautauqua Talk". Mother asked us to donate these paintings to the college to be displayed in the Chautauqua Gallery in memory of Dad. We did this joyfully.
I think mother felt she had come full circle with Chautauqua, the organization that was so important to her in her youth. She saw it reestablished and had the joy of presenting her grand daughter, Mira Bergstrom, in a Chautauqua Concert in 1984. (Mira had begun piano study with Alma as a preschooler and continued her studies until her High School graduation that year). Another grand daughter, Lisa Studness, appeared on a North Dakota Chautauqua program a few years later.
In 1995, Alma made a Chautauqua appearance with her great grandson, Will Bergstrom. She had been teaching a piano class for him and two other preschoolers. Ben, though just a toddler, participated in the classes as well.
One of the things she loved about Chautauqua was that it not only presented performers who gave inspiration, it offered opportunities for local talent to perform. She often said, "Attending great performances is as important as performing yourself. Both experiences are necessary for the consummate artist."
She felt greatly blessed to have been able to share her love of music with so many…her students, her friends, her community, her grand children, and her great grand children. Who could ask for more!
I'm filled with respect for what she stood for and for what she did. For me she was a fountain of wisdom. She gave her students more than music lessons…she gave life lessons. She encouraged people to expand and develop their interests.
Mother received The Governor's Award for the Arts in 1989. Belle received the same award in 1979. I received the award in 1981. I am humbled to have this in common with two women I hold in such high regard. Hopefully this means that I am doing my part as custodian of the values they cherished.
Alma had a great love for the Lake Region and for its people. She loved the bonds she formed with people through music. She was continually impressed with the countless hours of volunteer effort the broad cross section of our citizenry give to make this community and region a special place to live.
She believed these people make a great difference in our quality of life. She believed that the real heroes are the Unsung Heroes. But that is another story.