---
About The Settler's Series
At the time of the Centennial of the State of North Dakota in 1989, Anne Marit created a series of paintings to honor the memory of the pioneers. She collaborated with her daughter, Mira, in the creation of a book designed to be a centennial tribute called "The Settler's Saga – Celebrating 100 Years of Dakota". The word Dakota means friend in the language of the Sioux. The book pays tribute to the years of friendship in the Peace Garden State...

"A Settler's Saga, Celebrating 100 Years of Dakota: does just that. It celebrates the life of the early pioneer and pays tribute to the difficult, demanding, yet often rewarding life of the hearty individuals who shaped and formed this state and nation."
- Julie Strauch Lake
- Devils Lake Daily Journal
- Devils ND

"Anne-Marit Bergstrom didn't have to look for new ways to keep busy when what she calls the "creative endeavor" of raising children was about done. She merely bought a few more canvases and brushes and started devoting more time to another of her creative endeavors – painting. Bergstrom wrote and illustrated her own Christmas tale, "A Santa Saga" in 1984. This year – with her daughter Mira to help her write the text – Bergstrom has turned out her own Centennial tribute to North Dakota, called "A Settler's Saga."
- Lance Nixon
- Grand Forks Herald
- Grand Forks ND

"The hardy yet rewarding lifestyle of the pioneers is captured in this display of oil paintings by Anne-Marit Bergstrom. The paintings depict historical watersheds, the arrival of the railroad, the influx of immigrants, the introduction of the automobile as well as the daily texture of pioneer life, the hardships of survival, the benefits of faith and the joys of family and community life."
- Frank McCahill
- Minot Daily News
- Minot ND

"Anne-Marit Bergstrom has been an artist all her life. She didn't always take it seriously, but it has always been in her heart. "Art is one soul talking to another," she said. "It is a means by which one can crystallize emotions and communicate timeless truths. This fourth generation Dakotan shares her own timeless tale through her paintings. "When my children were growing up I devoted my time to my family so I didn't start painting seriously until they were grown" Anne –Marit says. But her talent and devotion never diminished." "I enjoy the creative process. Painting to me is like music for the eyes," she said. You have composition, color harmony, and dynamics. You have all of the basic elements you have in music". She concluded, "Paintings, like music, are meant to be shared."
- Janelle Breckheiner
- Devils Lake Daily Journal
- Devils Lake ND
---
About the Santa Series...
Anne-Marit has enjoyed a lifelong love affair with Santa Claus resulting in two series of paintings and two publications. The first series appeared in 1983. It was purchased by Ralph and Gen Miller or Brocket, ND. The second series can be seen on display at the Holiday Inn Express in Saint Croix Falls WI each Christmastime.

"Mumsel has written a new Christmas story. "Santa and Whatzizname is a spirit lifting, listing, philosophical fantasy written to delight the young and the young at heart. The nom de plume "Mumsel" was given to Anne-Marit.

Bergstrom by her grandchildren to whom the book is lovingly dedicated. When asked about the name she simply states, "They call me Mumsel." It is a name she loves and uses for her signature on the whimsical paintings that illustrate this book."
- Devils Lake Daily Journal
- Devils Lake ND

"Artist Anne-Marit Bergstrom is living proof that no one ever grows too old for Santa Claus. Bergstrom believes in Santa and believes in herself. She's creating her own legacy – one that's sure to live in American hearts as long as Santa." Anne-Marit believes in Santa Claus and all other good things. Call it her year round or lifelong holiday spirit, she has established herself as a something of a jolly good soul in the state and national arts vista She spent a recent afternoon at Archie's West Unlimited, Dilworth, where a series of her oil paintings is currently on display. The paintings, "The twelve Days of Christmas at the Claus House", focus on – who else? "I suppose everyone has their own idea of Christmas. This is the Santa that is in my heart." To gather and to spread life's pleasures is what Bergstrom cites as her drive to create and initiate arts activities in her life and community."
- Janelle Breckheimer
- Devils Lake Daily Journal
- Devils Lake ND

Santa Has a Home on the Range
---
About the Inter-Generational Family Art Show…
The Cando Audi Art Center featured six individuals representing four generations or artists in the Mehus/Studness/ Bergstrom family in December of 1992. The youngest artist exhibiting was Will, then two years old. The oldest would not divulge her age. But there were nine decades represented. Alma Mehus Studness, piano artist was represented by a CD, everyone else contributed original artworks.

"Seems there's a beckoning as you descend the stops toward the basement gallery of the Audi Arts Center. Perhaps it's gravity, of the arts variety, coming from the sights and the sounds within. Should one turn to the right to feast on the "Santa Saga" series? To the left or straight ahead for others: "Songs of the Earth," Fantasies," "Etudes"…. No matter where you look your eyes rest on beautiful pieces of art."
- Naomi Dunavan
- Grand Forks Herald
- Grand Forks ND
---
About Mystical Moment Notecards…
Anne-Marit's Mystical Moments notecards were created in response to the flood situations in the Lake Region. They were used to raise funds for flood prevention and relief.

"The enthusiasm that residents of the Lake Region have for Lake Preservation Coalition efforts is evidenced by the great response ND NOAH has enjoyed. Since its founding in April of this year, ND NOAH has raised close to "$4,000.00 for the Lake Area Coalition to use in its efforts to preserve and enhance the waters of the Devils Lake Basin. The catalyst for the fund raising has been the "Mystical Moments: notecards donated by Dakota Drawings. Dakota Drawings Business Manager, Candace Bergstrom stated, "We have been thrilled with the response to the project. People of all ages have become actively involved…from kindergartners to senior citizens. And I emphasize the word active. What is especially delightful is the community response to the Mystical Moment notecards used to raise money for this project. the sum of money raised in this short time speaks of the enthusiasm."
- Devils Lake Daily Journal
- Devils Lake ND
---
About Holiday Inn Exhibit……
Conversation Pieces Gallery is delighted to have a retrospective of the artwork of Anne-Marit Bergstrom (AKA Mumsel). In Focus on Family you will get a glimpse of the three major phases of her painting career thus far.

First: Adolescent years when drawing and painting were a flight of fantasy for the young artist.
Second: The accumulation of future subject matter while enjoying the roles of daughter, wife, mother, and community arts supporter.
Third: The re-emergence and refocus of her energies to painting. These works are intensely personal, yet they communicate strong universal truths of family values.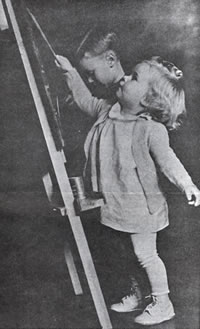 To ask Anne-Marit how long she has been painting is the same as asking her age. Her mother often bragged that Anne-Marit began drawing as soon as she could hold a crayon, demonstrated in this photo of the young artist at age two.
Anne-Marit's first art lesson took place at Walker Art Center in Minneapolis when she was six years old. At age eleven, while on a family trip to New York City, she began painting in oils by taking lessons from Stokely Webster, impressionist artist whose painterly fashion continues to influence her. The palette that he introduced to her 50 years ago remains her basic palette.
Renowned German expressionist painter, Oskar Kokoschka, also made an indelible impression on Anne-Marit during her formative years. When she studied with Kokoschka at his School of Vision in Salzburg, Austria, she took his words to heart when he commanded: "Love what you see! Paint what you see!" and Everyone stares, but few see. You must see!"
Anne-Marit studied music and art throughout high school, college, and the following years. After graduation from the University of Minnesota she spent three years performing and studying voice in New York City with Jennie Tourel of Julliard School of Music. In 1961 she married William Bergstrom and returned home to North Dakota. There the Bergstrom's made their home to raise their family. During this time Anne-Marit put her paint-brush aside. Though she enjoyed her music as she sang lullabies, she devoted herself to family and community.
Her involvement in the arts earned her the North Dakota Governor's Award (1981) for her role in expanding arts awareness in the community. President Reagan awarded her the President's Volunteer Action Award in the East Room of the White House (1982). Ladies Home Journal presented her the America Heroine Award (1984).
Her return to the easel came with the family purchased an art and office supply store in 1976. She managed the ArtMart there. The ArtMart offered classes in painting and had a gallery featuring local artists.
Anne-Marit's painting beautify many homes and places of business throughout the world. In 1983 when Ramsey County, ND celebrated its centennial, she created a series of commemorative note cards called Dakota Drawings. This was the beginning of a large body of note cards and prints. Thousands of her note cards have been sold, proceeds often going to the benefit of church projects, student scholarships, and flood relief.
When her children left home, she devoted energy formerly focused on parenting to her painting. Her family members, past and present, are her greatest inspiration. Therefore it is natural to name this retrospective Focus on Family. From early childhood her parents and her aunts Belle, Hilda, and Clarine gave great inspiration and motivation. Anne-Marit's imagination took flight while she listened to bedtime stories about pioneer experiences in Dakota Territory. All four of her grandparents, and two of her great grandparents, pioneered in Dakota Territory. The adventure stories of their journey knew no end. They resonate in her pioneer series and other paintings as well.
Current family events also find their way to the canvas. When my brother and I were growing up she did not have time to paint, but now she makes up for lost time by painting her grandchildren. Several of these paintings can be found in this exhibit. You will notice that grandchildren paintings are signed, "Mumsel." When asked why, mom simply states, "They call me Mumsel!"
- Holiday Inn Express
- Mira Bergstrom Norcross
---
About the Chautauqua Series…
The series of paintings dedicated to North Dakota Chautauqua is on permanent display at Lake Region State College in the Chautauqua Gallery which is dedicated to the memory of Leo and Alma Studness. The Chautauqua movement in America with its wide scope of influence impacted education in the United State. A large number of educational programs such as the adult summer school, university extension, correspondence courses and "great books" discussion had their roots in Chautauqua The series pays tribute to this legacy as well .as the local centennial celebration.
"Paintings by Anne-Marit Bergstrom and her daughter-in-law, Candace Bergstrom of Devils Lake will be shown for the first time in the Lower Level Gallery, NDSU Libraries from April through June (1993). The oil Paintings were completed to commemorate the centennial anniversary of North Dakota Chautauqua in Devils Lake. Anne-Marit is a fourth generation Dakotan. She studied painting with notable artists including Austrian Expressionist Oskar Kokoschka. Candace Bergstrom received her visual arts studies in Georgia and New Mexico. The Bergstrom's draw inspiration from the photos and writings that have remained from the turn of the century Chautauqua celebrations. Both artists feel that the "Chautauqua Spirit", so inspiring to the residents of North Dakota a hundred years ago, continues to inspire today.
- Benson County Farmer's Press
- Minnewaukan ND
---
About Paintings Displayed at NDSU


"Light of Knowledge" a series of three paintings, will be presented to NDSU for exhibiting in a ceremony Sunday, December 2, from 2 to 4 p.m.

The artist is Anne-Marit Bergstrom of Devils Lake, one of North Dakota's finest and most prominent painters. Much of Anne-Marit's art is influenced by her family and strong values of her North Dakota upbringing. The depth of her paintings and of the artist herself springs from her family. Her parents and grandparents are North Dakotans and Anne-Marit draws on the wonderful old stories they told her. It is a creative family, music and art, and it is a rooted in the pioneer spirit of the state.. She says, "I love life and I try to make it permanent by putting it on canvas. When I see something that is beautiful or remember something beautiful, I want to make it live for other people so I paint it, especially the values of the pioneer homes. It is being forgotten by too many people."
- Wayne Lubenow
- Midweek Plus
- Fargo ND
---
About Community Involvement…
"Bergstrom smiles when asked about her awards and her community involvement. She is also quick to point to others' assistance as fuel for her zeal.It's terribly important to remember how many , many people are involved whenever an award is given. No one ever does it alone. It is simply a continuation. There's such interdependence through generations." she says. She says one strong influence has been her mother, Alma Studness, who founded the Lake Region Community Concert Association in 1946. Studness was the youngest American pianist to appear as soloist with the Berlin Philharmonic Orchestra on March 11, 1924.

When Bergstrom speaks of her own contributions to the region's artistic growth, she says, "I already had something to build on. It's so important to remember the roots, the preparation."

As a child she drew as soon as she could grip a pencil. She started piano lessons at age 3.

Bergstrom says art and music have been complimentary, not conflicting, interests throughout her life. Music's dynamics follow painting's light and dark tones; both have definite structures and rhythms.

The relationship between music and art is something I'm continually aware of. Maybe I sing with my paintbrush now," she says.

She sings also in her efforts to bring new art dimensions to those around her.
- Kathy Friese
- The Sunday Forum