Grand Forks Herald
by Darrel Koehler
June 21, 1985
Devils Lake woman put music aside, lets her brush do all her singing.
Anne-Marit Bergstrom has loved art since she was old enough to grip a pencil. While other girls were playing with dolls at age 2, Bergstrom was painting. "There is a picture of me in diapers working at an easel, so you can see I started out young," she said.
She received her first formal art instruction at 6 years of age at the Walker Art Gallery.
Besides painting, she developed an early interest in music, starting voice lessons with Kathlee Sihler Toomey Palmer at age 11. For years, her love of music and painting was equally divided.
Bergstrom, 47, said music and painting have a lot in common. "Music and art share harmony, rhythm, composition, color, and structure. My music studies helped me with my oil painting," she said. Bergstrom now "sings with her paint brush."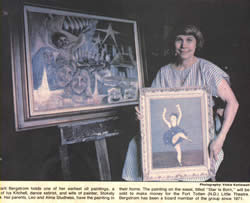 Her interest in oil painting got a boost when her parents, Leo and Alma Studness, took a three week Christmas vacation to New York City in the 1940s. Her mother tried to arrange for oil painting lessons for her from the Art Student League of New York City.
"They told Mother I was too young to work with oils. Later, when we were having dinner with Iva Kitchell (dance satirist) and her husband, Stokely Webster, a well-known impressionist painter, my mother mentioned my interest to Webster but then quickly said, 'but of course she is too young.' Webster told mother that I wasn't too young. He told my mother where to get painting painting supplies and gave me my first lessons himself," she said. Bergstrom painted a picture of Webster's wife in a ballerina's tutu, now a prized possession of her mother.
Later, as a young woman, Bergstrom, a lyric soprano, traveled to the Mozarteum in Salzburg, Austria, where she studied voice with Julius Patak and Lotte Schone. She was also able to study under German expressionist painter Oskar Kokoschka at "The School of Seeing." "Kokoschka always told his students, 'Everyone stares, but you must see' to be an artist. Even now, I refer to my studies with him in Austria and use it in my painting system," she said.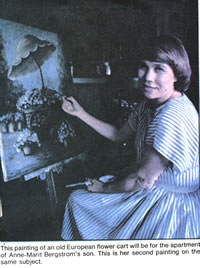 Since her marriage to Bill Bergstrom, Devils Lake auto dealer, in 1961, she has given up the stage for oil paining. The couple has two children, Renard, 21, who graduated this spring from the US Air Force Academy in Colorado Springs, Colo., and daughter Mira, 19, a sophomore at Carleton College, Northfield, Minn.
Bergstrom describes her painting style as a realistic or a combination of expressive and impressive styles. Besides oil painting, she has done some pen and ink work and dabbled with watercolors and acrylic painting.
A favorite theme in her paintings has been North Dakota people and landscapes. Another is childhood. She works either from sketches or photos.
She usually starts painting about 9 AM. the small dining area faces east, and large windows provide good morning light.
Bergstrom isn't a fast painter. "It takes me a long time to finish a work. I paint for awhile, then I might cover it up and start again the next day. I am never really satisfied with an artwork. It might take two years or more before a painting is completed." She usually has several paintings going at the same time, shifting from one to another.
She first sketches her painting on paper, then transfers the sketch to canvas with either charcoal or yellow ocher. Bergstrom then starts with the background, slowly bringing out the detail of the picture. "Flowers are always a challenge," she said. She has completed one oil of a European flower cart and is working on a second, a gift to her son when he moves into his first apartment.
She paints people too. "When I used to go to art galleries, I would always look at the noses in the paintings. I wanted to see how they paint them," she said. Bergstrom said the eyes are prominent in her works.
All four of her grandparents were ND pioneers. This is reflected in her work. In 1983, she put together a centennial collection of drawings, "Dakota Ways in the Good Old Days." A series of notecards, reproductions from the book, are sold in the North Dakota Heritage Center in Bismarck.
"My father helped me with the book. When I was putting it together he looked at it and said, 'You forgot the sod hut,'. So, I put it in the collection," she said.
She's working on an oil painting based on composites of performers from the Fort Totten Little Theatre. The painting, a "Star is Born," will be reproduced for notecards used for fund-raising for the theatre.
Bergstrom estimates she has completed between 300 and 400 paintings. With the exception of those in her home or those held by family members, most have been sold. "It is sort of like having them adopt the painting, I want them to have a good home where they are appreciated." Kent Jones, North Dakota agricultural commissioner, has one of her paintings in his office in Bismarck. Others are in private collections in North Dakota, California, Europe, and Japan.
Bergstrom was instrumental in organizing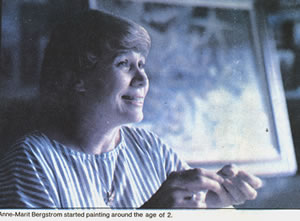 the Arts and Humanities Council of the Lake Region in 1976. In 1981, she received the Governor's Award for the Arts from the North Dakota Council of the Arts. President Reagan awarded her one of 16 Volunteer Action awards in 1982. In 1984, Ladies Home Journal named her one of 40 American heroines who exemplify the initiative and determination of generations of women who have helped mold the country.
A strong influence has been her mother who helped form the Lake Region Community Concert Association in 1946. Alma Studness is an accomplished pianist who trained in Europe and made her performing debut in 1924 as the youngest American pianist to solo with the Berlin Philharmonic Orchestra.
Anne-Marit Bergstrom never became a pianist, instead choosing voice. After graduating from the University of Minnesota, she became associated with Jennie Tourel, a mezo-soprano and "artist's artist." She continued music lessons in New York with graduate work at Columbia University. She also studied drama at the Herbert Bergoff School and with John Lehne of the Actor's Studio.
She gave a concert at Carnegie Recital Hall in 1960 and then joined the Arundel Opera Theater in Keene, Maine, as featured performer. Since 1980, she has hosted a weekly arts program on KDLR.