Leo & Alma: Dedicated to Education, Cultural Enrichment and the Arts
Alma Mehus Studness
The arts are lively in the Lake Region. That is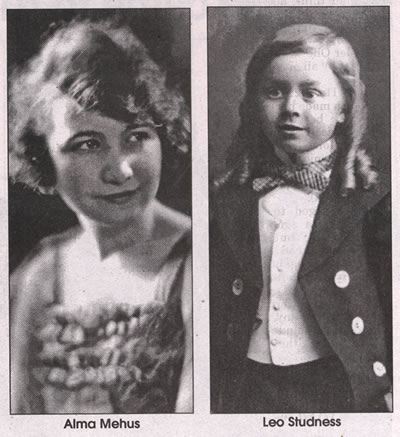 because of so many marvelous individuals who have called this place home. Two of these people were Leo and Alma Studness.
They were many things to many people. They were my parents So I saw first hand their devotion to education and cultural enrichment..
At an early age Alma Mehus gained great success as a pianist in the most critical capitals of the world. She concertized in twenty-six states in this country and made her European debut as soloist with one of the world's great symphonic organizations, The Berlin Philharmonic Orchestra, at the tender age of twenty..
During their 64 year marriage, the couple committed themselves to excellence. They brought a wide selection of new art exposures to the Lake Region. Each of them gave unfailing support to awareness and to education.
Both Leo and Alma were born in the Lake Region around the turn of the 20th century. Each had parents who pioneered in Dakota Territory. They grew up within fifteen miles of one another but they did not meet until they were in their twenties.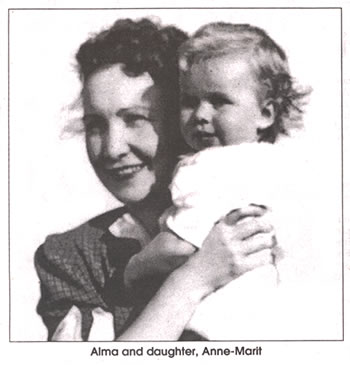 They met at a party in Leeds. Leo attended gathering with his mother. Alma was there with her father, though she had strenuously objected to going to the party. She wanted to stay home to practice the piano. But her father insisted, saying, "It won't hurt you one bit to spend this evening with me." Alma was glad she listened to him.
At the time, Leo was home from New York City where he had been studying Economics at Columbia University. That same summer Alma was spending the summer with her father on his farm on Silver Lake in Benson County. She had just returned from Europe where she had lived for two years
But lets begin in the beginning…here in the Lake Region.
Formative years
Leo Studness
Leo was born on January 4, 1895 in Churchs Ferry, ND, the son of Charles T. and Marit Nestegard Studness. His father. Charlie, had emigrated by himself from Lom, Gudbranddal Norway at the age of sixteen. He came to Churchs Ferry in 1883. His mother, Marit Nestegard, emigrated from Hallingdal, Norway with her parents in 1878 when she was seven years old.
Charlie and Marit were united in marriage at St. Olaf Lutheran Church in Devils Lake on November 2, 1991. They were blessed with three children. Their first child, a boy named Otto, died at age two. Their son and daughter, Leo and Clarine, both lived full lives, rich with years.
Leo greatly enjoyed an idyllic boyhood in Churchs Ferry where his father had a general store. He treasured childhood memories of sojourns to Chautauqua at Lakewood Park. He was particularly impressed by the Grand Auditorium (that seated four thousand people). Communities throughout the nation had canvas auditoriums (Tent Chautauquas). By comparison, North Dakota Chautauqua was something very special.
After graduation for Churchs Ferry High School, Leo attended the University of North Dakota in Grand Forks. He received his B. A. (Economics) from the University of Minnesota in 1921 and went on to Columbia University (NYC) where he received his Master's Degree and worked toward his Doctorate in Economics.
During his graduate studies Leo was greatly influenced his instructor H. Parker Willis, the expert called upon to formulate the Federal Reserve Act. His studies were interrupted when his Father died in 1928. At that time he came home to become manager of Studness Company which then consisted of farmland and a chain of nine general stores.
Alma Mehus
Alma was born in Brinsmade ND, in 1902, the daughter of Mikkel and Anne Myking Mehus. MIkkel emigrated from Hol, Halingdal in 1878. Anne emigrated from Aal, Hallingdal in 1892.
Before emigrating, Mikkel had received a Teaching Degree from the Teacher's College in Voss, Norway. He became impatient waiting for notification of his Post (teaching position) and decided to come to America. The assignment arrived shortly after he left home for America. Mother confided in me that she is grateful that he didn't receive the assignment sooner or he may not have come to America. How different things would have been!
Mikkel taught for a brief while in Iowa but then came to Dakota Territory where many other people from Hallingdal had settled. His first stop was Buxton…then Reynolds. He taught school in Reynolds. A favorite pupil of his was Marit Nestegard.
In 1883, when the train pushed westward to Devils Lake, Mikkel took the train to the end of the line. He then went even further West to Homestead in Benson County. Though he left his teaching career behind, mother told me that he really never stopped teaching. He was an educator at heart. He loved music and spent many evenings playing folk songs for the family. He treasured the violin he brought with him from Norway. She credits him with the great love of music she and her sisters shared.
Mikkel married Anne Myking in 1893 in Churchs Ferry at the Studness home. They made their home on a farm on Silver Lake, near Brinsmade. Alma was the youngest of four children born to the union. Her happy childhood was cut short when her Mother died in the Flu Epidemic on October 31, 1918. Two years prior the family had moved from Brinsmade to Fessenden where both Belle an Hilda held teaching positions in the public schools.
Belle, who was seven years older than Alma, assumed the role of mother for her heartbroken little sister. Belle had already played a vital role in the development of Alma's musical gift. She began giving Alma piano lessons when she was five years of age. Alma received regular lessons from her big sister until Belle left home to attended Oak Grove in Fargo.
While a student at Oak Grove, Belle continued Alma's piano lessons through the mail (like a correspondence course). When Belle graduated from High School, she attended Dakota Conservatory. She arranged for Alma to join her in Fargo for six weeks to study music.
Belle was Alma's sole piano teacher until Alma was thirteen. That year Belle arranged for Alma to go with her to Chicago to study with the famed Italian pianist, Silvio Scionti.
Alma had just been fifteen at the time of her Mother's untimely death. She had not yet graduated from High School. Belle wanted to take Alma to Chicago with her to study at the American Conservatory of Music, so the sisters got busy.
Alma took the high school equivalency test which enabled her to graduate from high school (at the age of sixteen) and join Belle in Chicago. Though working hard with her academics, Alma didn't let her piano practice slide. That year she won the North Dakota State Piano Contest playing the Chopin B flat minor Scherzo.
The headline in an article in the Fessenden newspaper said, "Fessenden Has Genius." Belle told Alma. "You can't believe everything you read!" She was afraid that Alma would rest on her laurels or pause for self admiration. Belle wanted Alma to push on.
In Chicago Alma enrolled as a student at the American Conservatory. Her piano teacher at the Conservatory was the renown Russion pianist, Josef Lhevinne, whose international career was legendary.
Alma was a serious student. She practiced up to six hours a day. The president of the Conservatory called Belle in to his office to admonish her for making her young sister work so hard. Belle told him that the drive came from Alma. "In fact", she told him, "I'd like to see you try to stop her." Alma received her four year degree in three years.
Financing their education was always a concern for the Mehus sisters., Alma's father wrote to tell her that he could no longer support her during her second year at the Conservatory. When she gave this news to Cora Kiesselbach (Lhevinne's assistant), Mme. Kiesselbach said, "That doesn't matter. I will see that you will have your lessons." Alma was given a full scholarship.
Alma earned money as an accompanist and also performing piano solos for women's clubs and "soirees" in Chicago. She performed often at the Edge Water Beach Hotel, an elegant hotel at the time. It was an exciting time to be living in Chicago. This era became known as the Golden Age of Music in Chicago. The Lyric Opera in Chicago towered over the Met in NYC. Alma loved to attend the opera and concerts.
At age 19, while still a student at the American Conservatory, Alma auditioned for and was hired by The Redpath Horner Management. She was engaged to perform on a nine week summer Chautauqua Tour through New Mexico, Colorado and Texas. Redpath was one of the biggest Chautauqua circuits at the time. Mark Twain appeared under Redpath management.
Alma had been hired to accompany a quartet, but said she would do so only if she would be allowed to perform solos as well. She had to do some convincing to persuade the management that a solo piano artist would "sell". The management reluctantly agreed. Soon after the tour opened Alma proved she was right. She was the only performer to receive an encore every night. Her performances met with rave reviews.
Alma performed in the same dress throughout the Chautauqua tour. It had spangles and beads and looked fine from the stage. But she threw it away at the end of the tour. In 105 days Alma played 105 performances (on a different piano every night). Alma said that the strange part of it is that it didn't really matter what the piano was like. She said, "You simply adjusted and went ahead and performed. Whatever the situation was, you got used to it. It was part of the experience." Years later she become a Steinway artist. Pages of her scrapbook show ads that say, "Alma Mehus is an artist who only plays on a Steinway." Not so in the beginning.
Alma took an accelerated course and graduated from the Conservatory in three year, at age nineteen. At the time of Alma's graduation, Belle was teaching at the Illinois Women's College in Jacksonville, Illinois. She invited Alma to perform on campus and also arranged a tour of several communities in the area.
Her brother, Oscar, then arranged a twenty concert tour of North Dakota. Once again she played on a wide variety of pianos, but always received great reviews. In a letter thanking Oscar for his efforts on her behalf, she told him that what he had done was "immense". She also told him it was "simply peachy."
Years later, while reminiscing, she said, "The stages in these small towns, and the ones I performed on during my Redpath Chautauqua Tour, might not have been the most prestigious I would ever play on, but they were the most important". It was there that she became a seasoned performer.
The concert tour of her home state was followed by a lengthy Lyceum Tour on the East Coast. She was featured as soloist. She had saved money the earned from her concretizing and felt very rich.
After all of this performing, Alma wrote to her father saying, "Papa. I have saved enough money from my concerts to go to Europe to study. The American dollar is strong there. I can cover my travel and my living expenses. I can pay for my lessons too. I will even have enough money to buy all of the music I want!!"
Her father's reply was that he did not want her to go. He felt that she was too young. He said that despite the fact that the dollar exchange rate was in her favor and that she likely could manage very well, he would not give her permission to go.
Alma did not stop at that. She wrote to her cousin, Bertha Gilbertson, who was five year older than she was. Alma enticed Bertha with the buying power of the American dollar in Europe. Bertha thought it sounded wonderful and agreed to the trip.
So Alma wrote again to her father. She asked if he would let her go if Bertha accompanied her. Her father wrote her a letter saying, "I will not stand in the way of what you want to do. You may go."
The two cousins decided to go to Berlin where the music scene was lively and exciting. Much has been written about Berlin in the twenties. It was an historic era.
The next challenge for Alma became finding the right piano teacher. A very fine pianist had been recommended to her, and she began studying with him, but she wasn't satisfied. It wasn't quite what Alma had hoped to find. She was at a loss.
Then at the American Church one Sunday Alma had the good fortune to become acquainted with the wife of Arthur Abell, an American music critic in Berlin. Mrs. Abell suggested that Alma study with Adele Aus der Ohe.
Adele Aus der Ohe had just retired from a long concert career at the time when Alma began studying with her. She had made eighteen American concert tours.
The most notable of these tours was in 1893 when Aus der Ohe performed together with Tchaikovsky at the opening of Carnegie Hall in New York City. She played Tchaikovsky's famous B Minor Piano Concerto with Tchaikovsky conducting. Aus der Ohe was a favorite of Tchaikovsky. She played his concerto eight times with him conducting …including four times in Russia.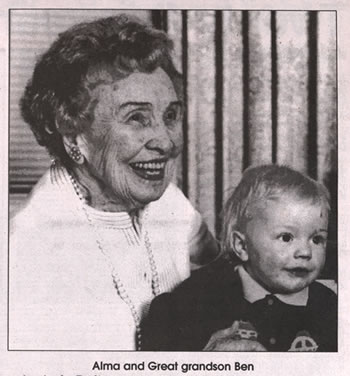 As a child prodigy, Aus der Ohe, had been a pupil of Franz Liszt
The friendships Aus der Ohe enjoyed with Brahms, Liszt and Tchaikovsky fascinated Alma. Mother spoke fondly of Adele Aus der Ohe. I remember mother often saying that Aus der Ohe frequently said, "Always play with enthusiasm!!!" She also advised, "Whatever you do, do it with all of your might!".
In a letter Aus der Ohe wrote to Mother, she told her, "Always strive for perfection. That is the way to become successful."
One of the many thrilling things that happened for mother in Berlin was that the exchange rate made it possible for her to buy all of the music she wanted. Her first summer with Adele Aus der Ohe, Mother memorized three concertos: one Liszt, one Schumann and one Tchaikovsky. How thrilling to study the music of Liszt and Tchaikovsky with a teacher who knew these giants personally (and well). Aus der Ohe was also a friend of Brahms.
The difficult political conditions and the failing economy in Germany forced Aus der Ohe to leave Berlin and take up residence in Italy. Alma followed her there to be able to continue her studies.
When mother returned to Berlin, she was invited to play at a soiree at the home of Mrs. Abell. Among the guests was Herr Doctor Professor Paul Ertel, then called Dean of German Music Critics. When Mother played, he exclaimed, "That is the kind of playing that packs concert halls!" So impressed was he, that he opened many doors for her.
A short time later Alma received a telephone call from a stranger who said, "I'm the director of the Berlin Philharmonic. I want you to play in concert with us." Alma told him she would think about it.
Years later mother told me, "I'm amazed didn't immediately say, 'Yes! Yes! A thousand times yes!'. But instead she told him she would think about it and let him know. She then consulted with Aus der Ohe (by mail since she was still in Italy). Aus der Ohe wrote back to tell her that by all means she should accept.
On March 11, 1922, at the age of 20, Alma made her debut (and history) becoming the youngest American pianist to appear as soloist with the Berlin Philharmonic Orchestra. (She played the Tchaikovsky B Minor Piano Concerto, as Aus der Ohe suggested).
She was engaged to play with the Orchestra again the following season, but she returned home instead. Her career was blossoming, but her funds were drying up after two years in Europe. Before returning home she gave performances in Italy, Germany, and Norway (which included an engagement with the Oslo Symphony Orchestra).
When she performed with the Berlin Philharmonic, the review in the Berlin newspaper (Welt Am Montag) called her, "A superb piano artist". A review in an Oslo newspaper (Tidens Teden) called her "An extremely thorough and gifted pianist with a highly developed technique and freedom and brilliance of execution".
Her scrapbooks are filled with such glowing reviews, but space does not allow me to quote them all. I would like to mention that she was welcomed home with equally enthusiastic notices in the newspapers.
I especially like the words of Thomas Kane, the President of North Dakota University. He said, and I quote, "From the broad new prairies of Dakota to the concert stage of Berlin…a long way for girlish feet to travel… Alma Mehus made a wonderful journey.
North Dakota has followed her career with enthusiasm ever since the little girl in curls won the first state piano contest. North Dakota is proud of her!"
It was during that first summer home from Europe that Alma met Leo. It would be four years before the two would marry. Alma continued to concretize. She also spent a year studying with Moritz Rosenthal, another student of Liszt, at Curtis Institute in Philadelphia, Pennsylvania. That was an interesting time at Curtis. All students were on scholarship and the founder of the school was actively involved in events at the school.
Of Alma they said, "America has in Alma Mehus a heritage of great piano playing. Her playing stems from the masters of two noted styles of piano artistry…Franz Liszt and Anton Rubenstein. She studied with renown concert pianists Adele Aus der Ohe and Moritz Rosenthal, both pupils of Franz Liszt. She also studied with Joseph Lhevinne, the greatest exponent of the incomparable Anton Rubinstein. It is of moving significance that their pianistic ideals are perpetuated in a mature but younger artist."
Leo and Alma were married on January 23 at the home of friends in Stanford, Connecticut. After a honeymoon in Bermuda, they made their home in Devils Lake. But that is another story.