Devils Lake Daily Journal
Centennial Edition
by Catherine Zaiser
July 1, 1983
For two generations Alma Studness and her daughter, Anne-Marit Bergstrom, have contributed to the arts, both as performers and promoters. North Dakotans by birth, they both left the state to further their educations and careers, but eventually returned to their home state.
Their individual pursuits of professional and personal goals is a story of parallels and diversities, set in the plains of the midwest, in the urban centers of America and in Europe.
The impact these women have had on the arts in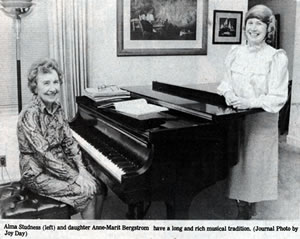 Devils Lake is difficult to measure, if only because they so modestly speak of their contributions. In 1981 Bergstrom was presented the Governor's Award for the Arts. She began her acceptance speech with these words: "At this time I am more aware than ever that no one does anything alone. It is a time to consider the interdependence of us all."
The interdependence she spoke of, in part, includes the family from which the two women draw their roots, North Dakota homesteaders Mikkel and Anne Miking Mehus.
Although both were born in Hallingdal, Norway, the couple didn't meet until after coming to the United States. Mr. Mehus was employed as a school teacher in Iowa when he decided to come to North Dakota to homestead in 1883. Studness said, "He was a bachelor farmer when he met my mother. She was younger than he and had come to the United States with members of her family."
The couple was married in Churchs Ferry and made their home on a farm near Brinsmade. They had four children: Oscar, Belle, Hilda (who died in 1977), and Alma.
The teacher in Mr. Mehus my have been stronger than the farmer, for when the children became of school age and were hindered from attending classes by their rural location, he moved the family into Brinsmade and took a job in a meat market.
Studness recalls that "there was always music in the house. My father played the violin. He was very musical and had a keen appreciation for music. We always had a piano. My mother was a very important part of the family. She was rather brilliant, warm and strong."
The Mehus offspring all distinguished themselves professionally and, Studness pointed out, have all became deeply involved in education. After serving as president of Winona State Teacher's College for a time, Oscar, when on to become top administrator for the Veterans Administration in Kansas City, Mo. Belle Mehus founded the Mehus Conservatory of Music in Bismarck, and Hilda became a child psychologist.
Alma's destiny was to become a concert pianist, to perform with the Berlin Philharmonic Orchestra, to concertize throughout the United States, and eventually to pass on what she had learned to her own students.
Studness received her first piano lessons at the age of five or six from her sister Belle. Belle remained her only teacher until Studness was 13 years old. When Belle, who was seven years older than Studness, was unable to give lessons to her sister personally she sent her lesson plans in letters, telling Studness specifically what and how to practice.
The Mehus girls each had a turn playing the piano in church. Studness recalls, "The chorals were very difficult so the minister sent a number of them home with me to rehearse. The first time I played in church I remember I played the song all the way through and when I looked up the congregation was still singing. Afterwards the minister said, 'That was fine, but not so fast next time.'"
Another of her early performing experiences was playing piano accompaniment for the silent films shown at the Brinsmade Opera House. It was an enviable job for a girl not yet in her teens. Studness said she can recall only one time when she got so caught up in the action that she forgot what she was doing and stopped playing.
When she was 13 years old, the family moved from Brinsmade to Skyston where both Belle and Hilda were employed as teachers. Studness attended school there for one year. At the age of 16 she was graduated from Fessenden High School where her brother was serving as superintendent. Her mother had died the year before.
Studness had her first exposure to music instructors, other than her sister Belle, at the Dakota Conservatory of Fargo, where Belle was a student. Belle arranged for her 13 year old sister to study there for six weeks.
After graduating from high school Studness enrolled in the American Conservatory of Music at Chicago - she was 16 years old. Studness said that because of all that Belle had taught her about music theory, history, and scales, she was able to graduate within three years with a bachelor of arts degree in music.
During this time Studness said, "Chicago was going through a golden age of music." Conservatory students made a point to attend orchestra concerts and performances by the Lyric Opera each week. "The opera in Chicago towered over the Metropolitan Opera in New York at that time," she noted.
Although definitely inspired and challenged by the greats she saw perform on Chicago stages, Studness was not enticed by their example to seek her own professional career. "I just always wanted to play better. At one time I said I wanted to play as well as Bertha Hagen (a fine pianist of that day). I love to read music so much, just like anyone else reads a story, I read music."
Financing her education always required some effort on the young pianist's part. During her second year at the conservatory her father wrote to say he could no longer afford to send her money for private lessons. When Studness broke the news to her teacher, Cora Kiesselbach, the instructor replied, "It doesn't make any difference; you come anyway."
Bergstrom interjected, "This is part of the reason why mother, for all these years, has taught gratis. There is no way you can give back to them (the teachers) what they have given you, but you can give to some one else."
Studness did find ways to earn money. She worked as a studio accompanist and "had a lot of dates around Chicago as an accompanist and soloist." She recalls playing for women's clubs in hotel ballrooms, and often at "soirees" around the city, particularly at the Chicago Bead Hotel.
Another money making venture, and Studness's first tour, was arranged by Belle, then employed as a teacher in Jacksonville, Fla. Studness and violinist Margaretha Morris performed there and in several other communities in the area.
Soon school was out and Studness had to begin in earnest to make a living, she tried out for the Red Path Horner Chautauqua, "one of the biggest Chautauqua in the circuit at the time." Studness claims one reason she got the job was because she had asked for a salary $5 lower than her competitor. During her nine-week tour she traveled through New Mexico, Colorado, and Texas, working as a quartet accompanist and as a soloist.
Following the Chautauqua tour her brother arranged for a 20 concert tour in her home state. She said, "I played on a lot of poor pianos" in communities such as Mayville, Minot, and Devils Lake. In spite of the questionable instrument quality, she admitted she "received very good reviews all along."
This tour was followed by a lengthy lyceum tour of the East, in which she performed as a soloist.
"I had saved my money from the two tours and concerts out here and I felt very rich. I wrote to my father and told him I wanted to go to Europe to study. My father wrote back and said, 'I don't want you to go. You are too young.' So I asked my cousin Bertha Gilbertson, who was five years older than I, if she would go with me (enticing her with the buying power of the American dollar in Europe). She said yes, so I wrote my father and asked him, 'If Bertha cam with me, could I go?' He wrote back, 'I don't want to stand in the way of what you want to do. You may go.'"
Now the only problem facing her was to find a teacher. Kiesselbach admitted, "I don't know who to send you to." Studness began lessons with a very fine pianist, but wasn't satisfied. Then the wife of an American music critic living in Germany, Mrs. Artura Abell, suggest Adele Aus der Ohe.
"Aus der Ohe had retired from a long concert career when I went to study with her in Berlin. She had known the composers of her time, such as Brahms and Tschaikowsky and of course she was one of the famous Liszt pupils. She made many tours of the United States - 18 I think. She opened (dedicated) Carnegie Hall playing the Tschaikowsky concerto, with Tschaikowsky conducting. (She played it eight times with Tschaikowsky conductings - four times in Russia.)"
Studness found that Kiesselbach's "good and relaxed" technique gave her the "good grounding" she needed to begin work on concertos. "I memorized three that summer - by Liszt, Schumann, and Tschaikowsky."
Due to political conditions and the poor economy in Germany, Aus der Ohe left Berlin and went to Italy; Studness followed her there in order to continue her studies and minimize her living expenses.
One day Mrs. Abell asked Studness if she would play at her home for a small gathering of people. Among the guests was the conductor of the Berlin Philharmonic. His response to her performance: "That's the kind of music that packs concert halls." He asked Studness if she would play with his orchestra. After consulting Aus der Ohe, she agreed to perform.
So on March 11, 1924, at the age of 20, the pretty American girl from North Dakota made her debut and history as the youngest American pianist to appear as soloist with their Berlin Philharmonic Orchestra. on Aus der Ohe's advice she chose to play the Tschaikowsky B Flat Minor Concerto.
That night she said her thoughts were "of my father; I wanted to play so he would be proud of me (even though he was unable to attend). You are thinking so hard of your music you really don't think about anything else. I felt very sure I could do it."
Unfortunately just as her career was beginning to blossem, her funds dried up. After two years in Europe she was forced to leave, although not before performing with the Oslo Symphony and giving other concerts in Germany, Norway, and Italy.
Upon her return she played in Minneapolis and made her Chicago debut. The "Musical Leader" of Chicago called her, "A convincing and virile pianist. Her depth of penetration into the meaning of her music and her colorful reading make her and artist of whom an audience cannot tire."
Still her studies continued. She won a scholarship to the Curtis Institute of Music in Philadelphia, where students are admitted on a scholarship basis only. Her teacher there was the great Moritz Rosenthal.
Music was not the total love of her life. On January 23, 1929, she and Leo Studness were married at the home of a friend in Stanford, Conn. The pianist had met the Columbia University graduate four years earlier at a party in Leeds, which she had attended against her will.
"I didn't want to go; I wanted to stay home and practice, but my father insisted that I go. Leo and his mother, who lived in Churchs Ferry were also invited. After that Leo come out to see us, but it took me awhile before I knew which one of us (the Mehus girls) he was calling on.
"I was very fascinated by him. I thought he was something really special (I still do). There was a sophistication about him that I liked. He was very intelligent and well read."
Her marriage did not put an end to her study of music or concertizing (she made her New York debut with a wedding band on her hand), however the distance from Devils Lake to urban centers did limit substantially her performance schedule.
Shortly after their marriage Studness's agent was killed in an airplane accident and she chose not to become associated with another representative, "just accepting things as they came up.. Performing was not my main interest.. To really concertize you must practice four to six hours a day, it is really a life in itself. I have always kept up and have always been more or less in concert form.. but studying and playing are my main interest."
The Studnesses became parents on November 2, 1935, when their son, Charles, was born. Their daughter, Anne-Marit, arrived on February 18, 1938.
Anne-Marit was an exceptional child. She had a 1,000 word vocabulary by the time she was two years old and was drawing from the time she could hold a pencil," said her mother.
This love of drawing and painting is evidenced today in Bergstrom's work and she admits, "The drive I have all the time is to paint." However, for many years her love was equally divided between painting and music.
"I was very interested in studying voice and began voice lessons with Kathlee Sihlor Toomey Palmer when I was 11 years old." Her mother didn't think she needed lessons at that age, so Bergstrom took it upon herself to make arrangements for the lessons.
That same year, when the family took their annual three-week Christmas vacations, Studness tried to arrange for lessons in oil painting for her daughter from the Art Student League of New York. "They told mother I was too young to work with oils. Later we were having dinner with Iva Kitchell (dance satirist) and her painter husband Stokely Webster. Mother mentioned that I wanted to study oil painting and she said wisely, 'but of course she is too young.' Webster told mother that wasn't the case at all. He told mother what (painting) supplies to get and he gave me my first lessons himself."
Bergstrom never did learn to play the piano, at least not to any great extent. Speaking of her mother's talents, she said, "Hearing her play, I think the comparison was too much. I liked music so I sang."
She attended Devils Lake schools and completed her last year of high school at Stephens College in Columbia, Mo., where she could take language courses not offered in the local curriculum. She completed her work there in 1956 and entered the University of Minnesota.
The following year, on the advice of her Aunt Belle Mehus, she entered her photograph (there was no pageant at the time) in the Miss North Dakota pageant. She was bestowed with the title and went on to the combined Miss USA - Miss Universe pageant, "which was only about five years old at the time."
Bergstrom won the pageant talent competition and a one year scholarship from the Drama League of New York, which she gave up because, "My father said I must finish my college education first.. Of course he was right."
In 1958 she was graduated with a bachelor of arts degree in music from the University of Minnesota and that summer attended Aspen Music School where she began her three year association with Jennie Tourel.
"She had a commanding stage presence and was still concertizing while I studied with her," said Bergstrom. Tourel had distinguished herself to the music world as "an artist's artist" by performing "The Barber of Seville" in the original key, something no mezzo soprano had done since the composition was written. Tourel was a long time associate and supporter of Leonard Bernstein; their names were coupled often during that period of musical history.
"She kept me in scales for a year, which shows how important slow training is. She used to say, 'I don't like instant pudding, I don't like instant coffee, and I don't like instant singers. A singer must take time to develop.'"
Bergstrom traveled with Tourel to New York where she continued her lessons, did graduate work at Columbia University, and studied drama at the Herbert Bergoff School and with John Lehne of the Actor's Studio. The North Dakotan gave a concert in the Carnegie Recital Hall in 1960.
That summer she joined the Arundel Opera Theatre at Kennebunkport, Maine, where she was featured as Juliette in Gounod's "Romeo and Juliette," and Baby Doe in Moore's "The Ballade of Baby Doe."
Then she was off to the Mozarteum in Salzburg, Austria, where she studied voice with Julius Patzak and Lotte Schone and art with German expressionist Oskar Kokoschka at "The School of Seeing," where the painter admonished his students, "Everyone stares, but you must see!"
Eventually Bergstrom decided what she wanted more than a career in the arts was a husband and a family. Four years earlier, she had become reacquainted with a former piano student of her mother's, William Bergstrom. "Bill is five years older than I, and was a young man I had always admired very much. I can even remember what I wore one time when he came over for a lesson."
Their relationship really started much later than that, on New Year's Eve in 1957. "His folks and my folks were going out together that night. I was here (Devils Lake) and Dad said, 'Come along with us.' Bill had just returned from London where he was stationed in the Army (he was in charge of finance for the US Army in England and was working as a liaison between the Air Force and Army). I remember him talking about London and all the plays he had seen there, and the new musical, "The Music Man," which he had seen in New York just before coming home."
After four years of correspondence and meeting when and wherever possible, Bergstrom informed Tourel that she was going to marry Mr. Bergstrom. Her teacher response: "That takes about two years."
Bergstrom explained, "She had been married three times, unsuccessfully. It seemed that whenever a relationship became more than she could handle, and still maintain her career, that was it.. I think she was very lonely because of that."
Despite this dismal prediction, the Bergstroms were married December 16, 1961. they are the parents of two children, Renard, a cadet at the Air Force Academy in Colorado, and Mira, a student at Devils Lake Central High School. The young Bergstroms study piano with their grandmother and have been involved in local music organizations, carrying on for another generation the musical heritage that is theirs.
The Devils Lake years.
Both mother and daughter claim they have never regretted the decisions they each made to leave behind metropolitan stages and instructors' studios to live in this rural North Dakota community.
Studness said, "I was raised in this country.. I have always enjoyed it very much." Her daughter expressed similar sentiments: "My home was here and it had always been a source of great comfort for me.. I had always been proud of the community."
The two women have watched and helped cultivate cultural growth in the community. When Studness returned here in 1929, the only musical organizations in the city were the Devils Lake Music Club and the Devils Lake Boys Band.
One project Studness took on was providing musical instruction at Lincoln Elementary School while her children were pupils there. Similarly, when her children were young Bergstrom went into Prairie View School to teach French. That she mirrored her mother's actions she said was unconscious, she merely wanted to offer the students exposure to a second language.
Studness may have been responsible for the founding of the Lake Region Community Concert Association. It was after a concert give by her in November 1946, that a group of interested citizens organized the concert series. Studness became a member of the board of directors and Bergstrom was elected to a chair in 1962.
Both have taught music lessons in their homes on a limited basis, depending on potential students to seek them out. The only payment Studness has ever required is "hard work," a high price to pay someone who used to practice six hours a day. Together they formed the Lake Region Young People's Music Club to give their students an opportunity to perform. In the past four years the club has made an annual trip to Minneapolis, MN to see the New York Metropolitan Opera.
Bergstrom became a member of the Fort Totten Little Theatre board of directors in 1971, another organization Mr. and Mrs. Studness have supported since its founding. In 1976 Bergstrom was appointed to the Devils Lake Recreational Commission. Seats on the North Dakota Council on the Arts have been held by both mother (1975) and daughter (current) and in 1976 they helped organize The Arts Council of the Lake Region, Inc., which has since beget a long list of cultural organizations and projects in Devils Lake. As a member of the North Dakota Rural Arts Task Force, Bergstrom presented a case study on Lake Region art activities at the national Rural Arts Institute in New Harmony, Ind.
Bergstrom hosts KDLR's weekly radio program, "Music Notes and Art Sketches" (since 1980) and now concentrates her free time and efforts on painting. Her most recent work is a collection of illustrations and descriptions of pioneer life in North Dakota. "Dakota Ways in the Good Old Days."
Bergstrom and Studness are more inclined to applaud the accomplishments and civic contributions of their husbands' than their own. Since 1927 Mr. Studness has managed the Studness Company, a partnership devoted to investments in stocks and bonds, and extensive grain and livestock farms. Bergstrom, a native of Devils Lake and graduated of the University of Colorado, operates the family business, Lake Chevrolet, Inc. Both have been very active in community affairs and supportive of their spouses.
The women have not allowed their artistic pursuits to overshadow the importance of their families. When asked of what accomplishments she is most proud, Bergstrom does not hesitate to say, "my children.. Children are the greatest creations of all are they not?"
As to the future of the arts in Devils Lake, Bergstrom said, "I believe the more there is.. the more there will be. People need enrichment like a plant needs water and the arts can give that enrichment."